More About Nectar Sleep Mattress & Product Quality
Nectar sleep mattresses are an excellent choice for your bed. It is suitable for anyone. The cushions can adapt to your body movement freeing you from all sorts of pains or stress that mattresses cause.
Comfort is a hundred per cent assurance in this mattress because of the four-layered construction. The mattresses also offer heat control and protection.
There is a memory foam that supports your body. The mattresses can eliminate the aftereffects of body movement. Nectar sleep mattresses are of excellent quality as their customer suggests.
Tips to Buy Nectar Mattress
There are various reasons you might have for buying a new mattress. While purchasing a Nectar mattress, you will need to consider some factors that solves your issue. They are-
Discounts and coupons:

On Nectar mattresses, you get different types of coupons and discounts based on activities. Such as a login coupon code. Upon signing in on nectar mattresses, you can get a coupon code for discounts. There are different types of sales and discounts wait for the right time to grab the opportunity. You can also browse our

constantly

updated Nectar Sleep Mattress active promo codes to get additional savings.
Go through reviews:

Go through other people's thoughts about using the nectar mattresses. You will get answers to all of your questions regarding performance, specs and quality.
Free shipping and return:

On the nectar mattresses you don't need to pay any shipping charge. So, use the opportunity to get your mattress delivered at your doorstep without any cost. Also, you can return or exchange the mattress if it doesn't suit your bedding. 
White glove service:

Use the white glove service from Nectar. You will be charged a bit more, but it will be more convenient. This service will help your mattress get delivered and set up with professional handling
Size:

There are five different sizes of nectar mattresses to choose from. You should get the one that matches the size of your bedroom. Prices vary much based on sizes.  
How to Return The Nectar Mattress?
You can return your mattresses if you don't like them or have issues with them. You will need to return the mattresses after 30 days of delivery until 365 days. You can return it in moderate condition without any external damages.
To return any product you will need to contact their customer service. You can either email them at [email protected] or can call them at 1-888-425-4854. You will get a refund for all costing except shipping fees, discounts and white-glove services.
How Long Does Shipping Take?
Nectar Sleep has a different kind of reputation for its shipping capabilities. They are able to ship their mattresses within 3 to 5 business days. You can get your bed delivered soon after ordering.
What Kind Of Promotions Nectar Offers?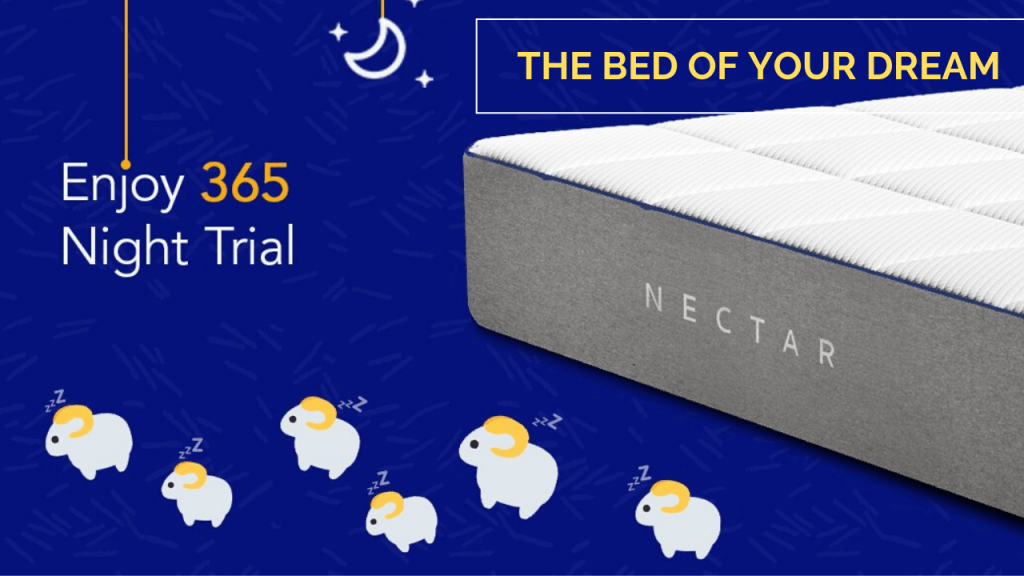 Nectar Sleep is very good with their offers. For regular days you can get free shipping, 365-day trial, lifetime warranty and free returns. On top of that, there are various promotions occasionally. It offers such as $125 off of products, free pillows, black Friday sales, Labor Day sales, Christmas sales, email sign up discounts and many more. Along with that their prices are also quite reasonable. So, you can rest assured of value for money.
Nectar Mattress Warranty
There is a lifetime warranty on a Nectar mattress. If you face issues with the mattress in the first ten years, they replace with a new bed. And if you encounter problems after that, then you will need to pay for the transportation cost, and that's it. The company will cover all other expenses of repairing or recovering your mattress.
Why Should You Choose Nectar mattress?
There are many reasons to choose Nectar mattresses. It can well be the last mattress you will ever need. Following reasons might be convincing enough to get a Nectar message. 
The quality:

Nectar mattresses are unparalleled in quality. You get top quality features of a mattress with them. They come with memory foam which adapts to your sleeping positions and isolates your movements very well. It has got four layers, including the mattress base. The top layer or the cover is able to maintain temperature. This gives you better heat protection. Then there is a layer where the memory foam resides. The third layer ensures comfort with a half-open Lush Foam. Then there is another layer for better support to the pressure points.
Lifetime warranty:

They are very well known for their forever warranty option. You can replace your mattress up to the first ten years of buying. Then, later on, you will need to bear the recovery expenses of the bed. This feature makes sure you stay in peace with the mattress. 
Worth the money:

Being packed with all the great features, their price is completely justified. The mattresses will cost you some money. But like everything else, quality comes with suitable materials and suitable materials need good money. 
The smallest size of the mattress is worth $499, and the largest one costs about $1000. It also has various promotional offers which make it better than it already is. You can try one for yourself with the 365-day free trial option.
Related Shop: BearMattress, IyeeNature, Novilla, Nolah Mattress, Layla Sleep