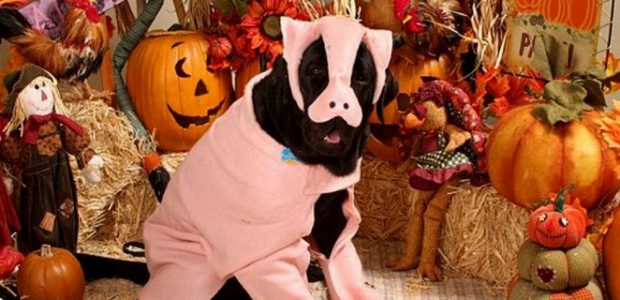 When you value your four-legged little creature just like another family member, why not make it a cute costume for the upcoming Halloween? First, make sure your dog is comfortable in wearing dresses. Halloween costumes could be a bit scary yet funny. 
Therefore, make sure the costume you choose suits them properly.
Considering your dog's comfort, some cute pig costumes can be on your list. And this article will discuss them accordingly.
Now, get ready to know about the top 10 cute Halloween pig costumes for dogs.
1. Cute Small Girl Dog Pink Pig Hoodie: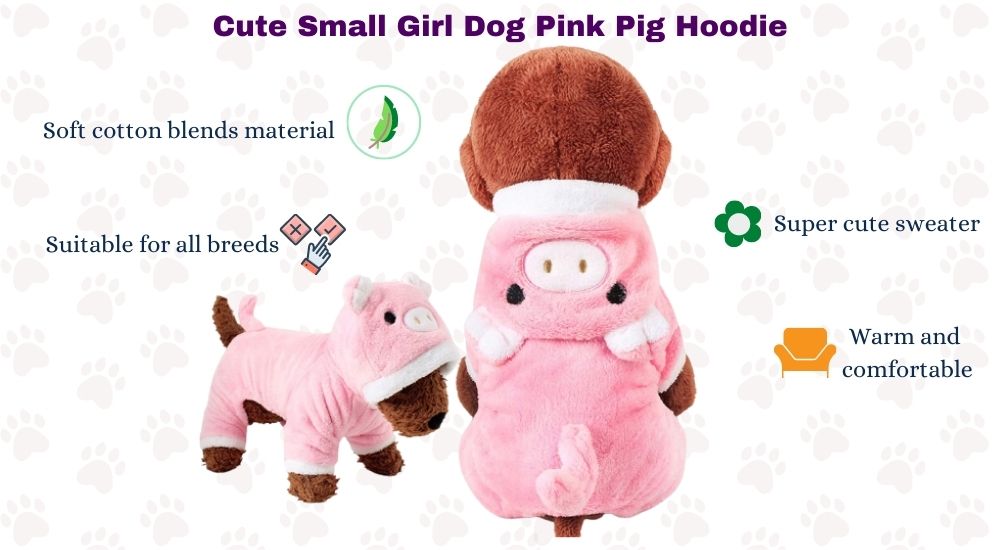 This cute outfit's brand name is Meihejia. They provide a soft cotton fabric. They manufacture this item only for small dogs and pups. Therefore, measuring the right size is very important.
Note the size- M: – Neck: 8 inches, Chest: 10 inches, weight: 4-7lb, back length: 7.5 inches.
This outfit will suit your girly puppy with the pinkish beautiful color shade. The attached hoodie will bring a more comfortable and warm fitting for the pup, as well.
2. Pig Design Warm Hoodie by Popetpop: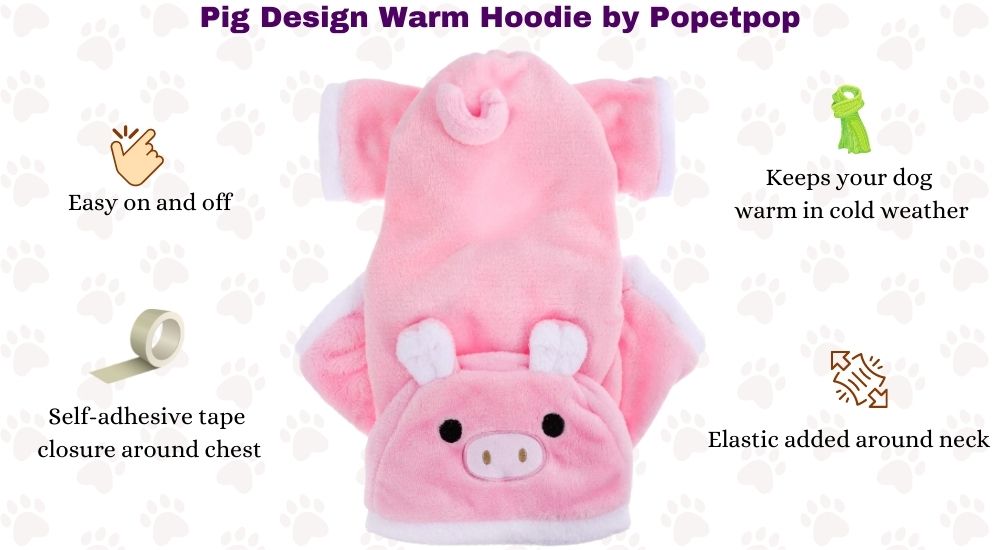 The coral fleece material of the costume is comfortable for the small dog to embrace the entire day. Plus, the added elastic and self-adhesive tape around the neck makes the dog move easily.
You can pick this piggy-style hoodie for a poodle, bulldog, puppy, and any other small dog. The size will cover 22cm for the neck, 32cm for the chest, and 19cm for the back length.
3. Coat Apparel Pig Puppy Cloth by Innopet: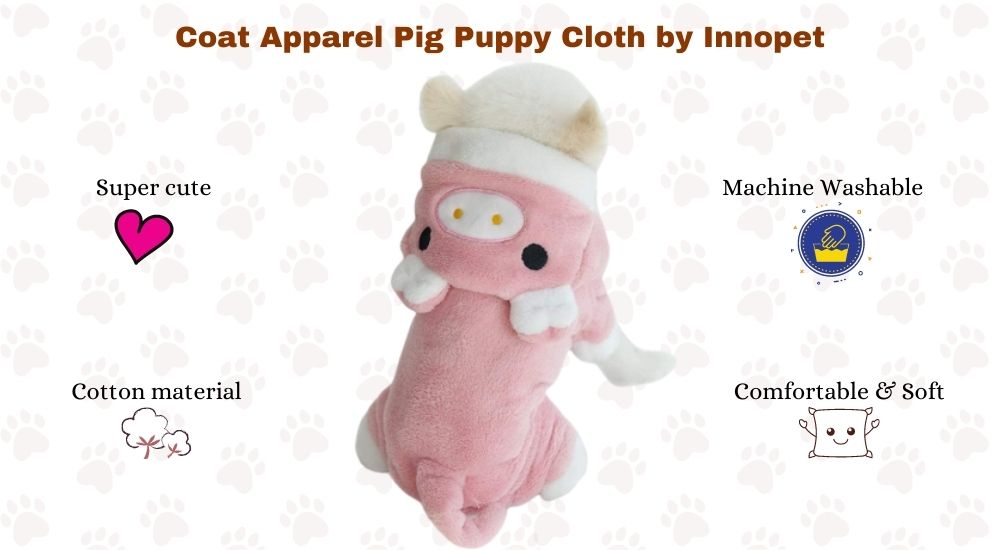 If you prefer a funny look on your cute little dog, this coat apparel can be an excellent choice. The soft and comfy cotton material helps to keep your pup warm.
The available sizes are XL: – neck: 14 inches, chest: 25 inches, and back length 16 inches.
4. Rubie's Walking Piggy Costume: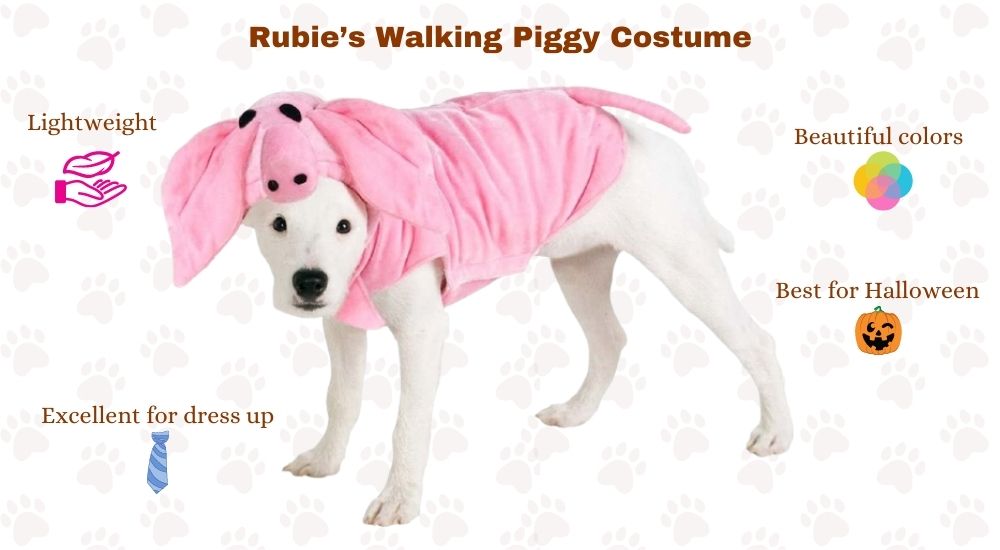 Rubie's is one of the most favorite dog costume manufacturers. It has brought you a walking piggy costume for your puppy. The headpiece with the attached arms of the t-shirt gives it a cute look.
5. French Bulldog Froodie Hoodie: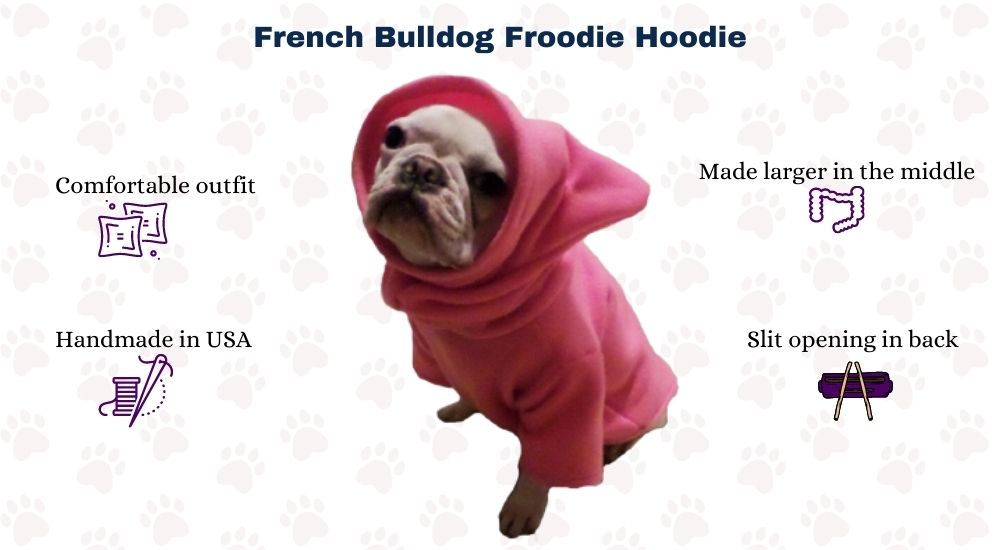 The fleece material of the Froodie Hoodie costume could be the most adorable and comfortable outfit for your bulldog this Halloween. It won't fall off after wearing, but won't fit tightly also.
6. Pig Shape Velvet Funny Costume: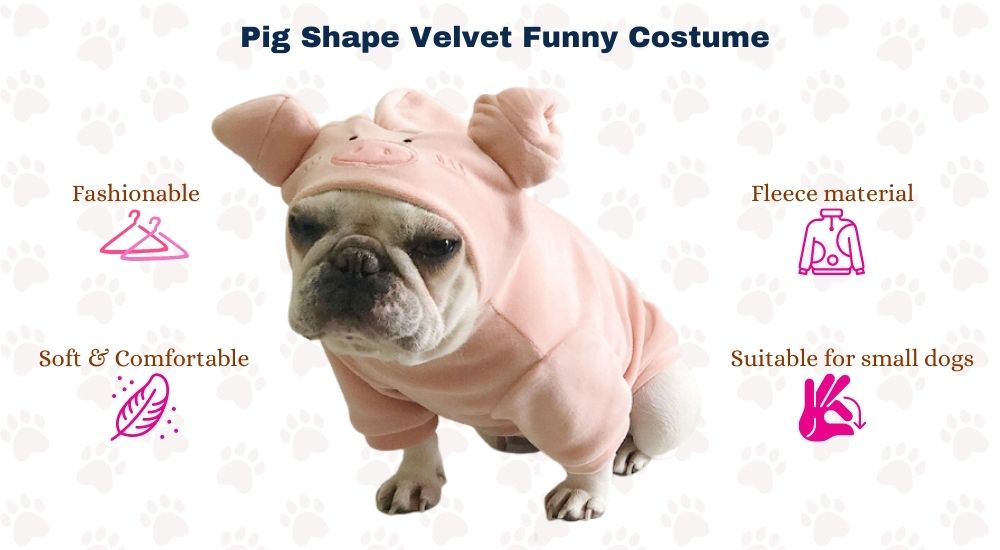 If you own a French bulldog, schnauzer, Chihuahua, Yorkshire, you can pick this outfit. The material is fleece. The color is pretty pink. It comes as a jumpsuit that will fit in the dog properly.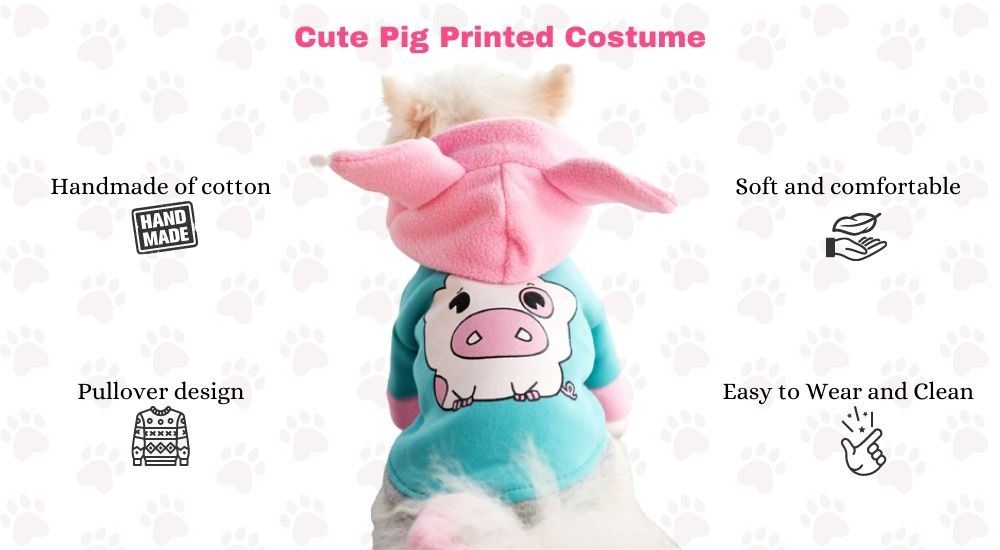 Get out of the box and pick something fancy printed for the dog this Halloween. Not necessarily the color should be pink to match the pig, but you can choose prints. They come with polyester material.
8. Soft Cute Jumpsuit for Chihuahua Puppy: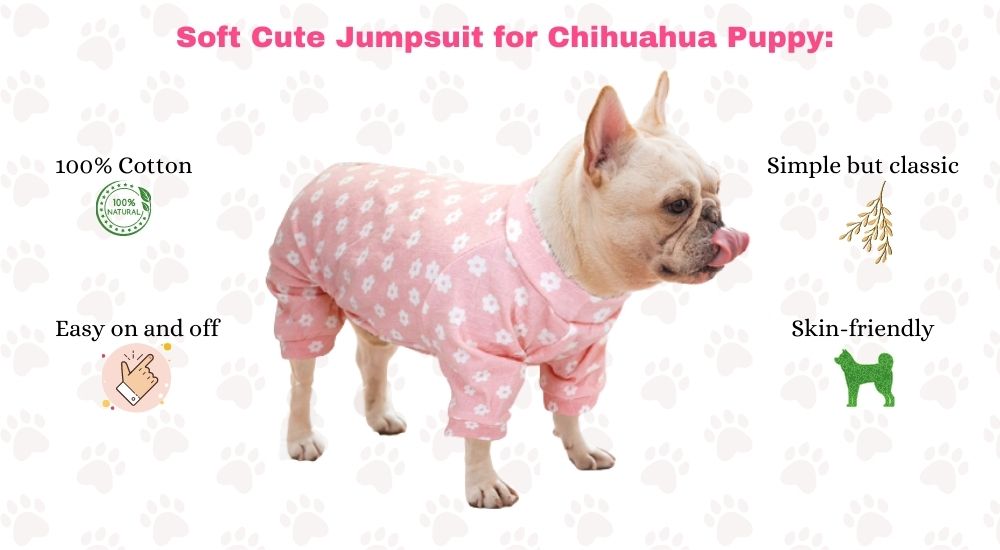 You will get all different sizes for your small puppy for this jumpsuit, including s, m, l, and xl sizes. Jumpsuits are suitable for dogs with full comfort. If you find your puppy is sensitive to clothes, try to avoid jumpsuits. Besides, it's tough to pull off the outfit once it's worn.
9. Piggy Dog Hat: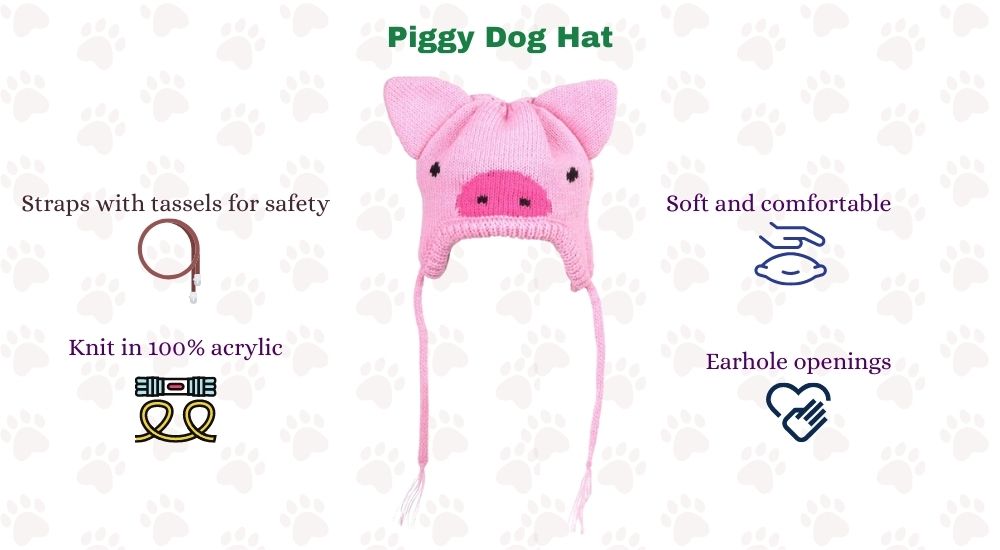 If you love simplicity, putting a crochet piggy hat on your dog can make your Halloween special. It can fit in any breed without hassle. The material is soft wool. However, make sure your dog agrees to wear hats or hoodies for a long time.
10. Plump Piggy Costume: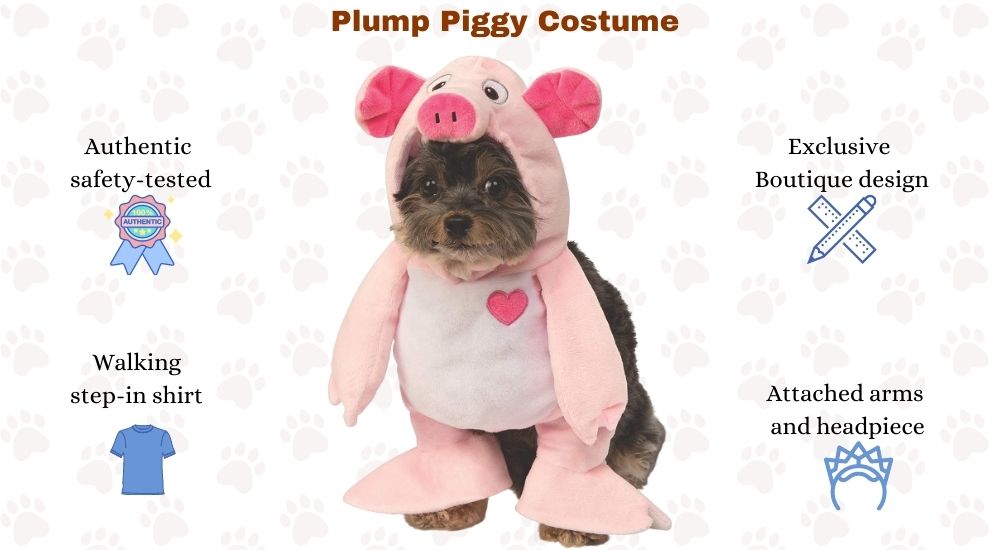 Get your puppy with one of the cutest looks this Halloween with the plump piggy costume. Your little puppy's paws will fit in with the costume's legs. The cute little hoodie will fit around the neck. Thus, the face will pop through. During their walk, the arms of the puppy bounce side to side.
You must ensure a few things about the costume before selecting the perfect outfit.
Pick the Right Size: The first thing you must keep in mind is ensuring the correct size. It's necessary because not all dog costume manufacturers provide the exact size measurement. For example, a medium-sized dog may not fit in a particular brand's costume. But it can fit in the same size as another brand's outfit.
It's wise to have the right measurement of your dog instead of relying on the brand's size number.
Double Check Comfort: There's a vast difference between selecting a human's costume and your pet's costume. Pets might not be comfortable with dresSign Up outfits, not even occasionally. So, double-check the dog's reaction when wearing the dress. Give it some time to get relaxed with the fitting.
If the dog seems OK with the dress, you can pick it. Otherwise, it's better not to prefer an outfit at all.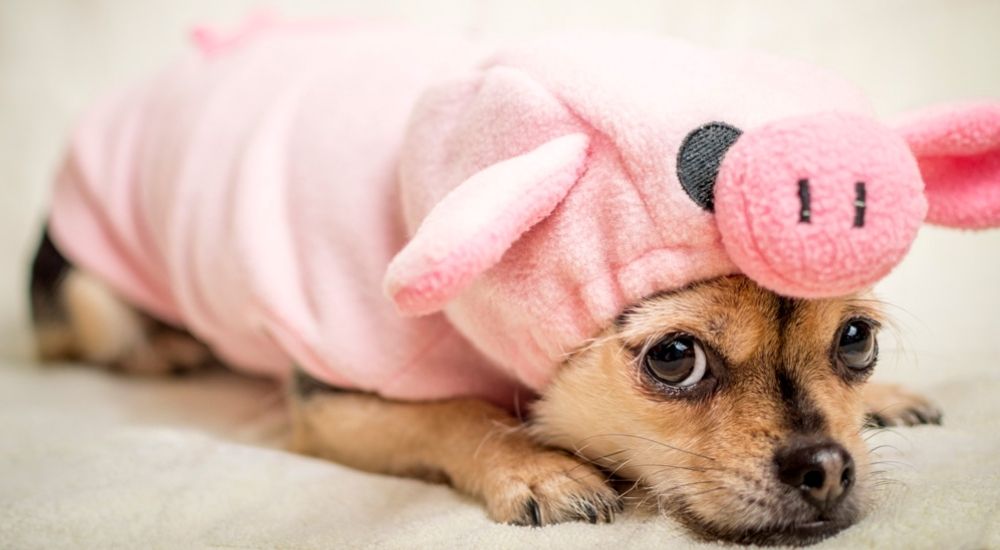 Ensure a Fine Material: It's a must to choose the costume's material that suits your sensitive dog's skin. Make sure it's not too tight that restricts the regular blood flow. It can also make the dog feel sick. 
Dogs are comfortable when they are free. During the Halloween party, they would try to enjoy the best in a festive vibe. So, let your pup be free and comfortable with the costume material.
Recheck Anxiety Issues of the Dog: You must reconsider choosing an outfit if your dog has anxiety disorder living in a crowd, festive, or holidays like Halloween. A dog might be sensitive to a new environment. People dress up unusually on Halloween can scare the dog out.
How to Make it Wear?
Sometimes, it becomes a challenge to make your dog convinced about wearing the dress. The real challenge comes during the attempt you take. In that case, try to concentrate your dog's mind on something engaging. 
Go with the headpiece and arms to facilitate wearing the lower part of the dress.
Final Words
Halloween is celebrated with the dearest and nearest ones each year. If you plan something exceptional this year that includes your dog's costume, including a funny and cute one like a pig costume. 
Piggy outfits for dogs seem cute on small dogs or puppies the most. But you can also plan to custom make for your big dog. In that case, choosing a piggy hat only could bring a good look. 
Consider ensuring the right size of your dog before ordering dresses online. You can also DIY the Halloween costume for your dog if you have unique design ideas in mind. It will be easier to take the measurement and make something on point.