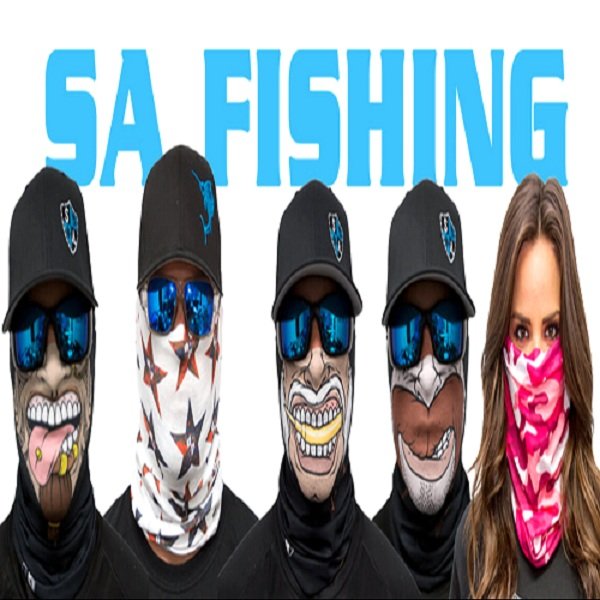 We know you are trendy and that is why we're talking about SA Fishing Face Shields. We want you to stay on top of trends and we are willing to do the footwork for you. This SA fishing face shield review will be just what the doctor ordered when you go shopping. You will not believe how many new face shields there are on the market! Read on and find out.
What are SA Fishing Face Shields?
SA is a company that offers a fine variety of outdoor clothing, performance fishing apparel, face shield, and outerwear gear for men. SA fishing face shields are fabrics that can be worn on the face, and chin as protective gear and well, to look like a badass!
SA Fishing Face Shield Review
Below is our top 10 SA Fishing Face Shields.
1.   Stealthtech™ Camo | Hydro Skull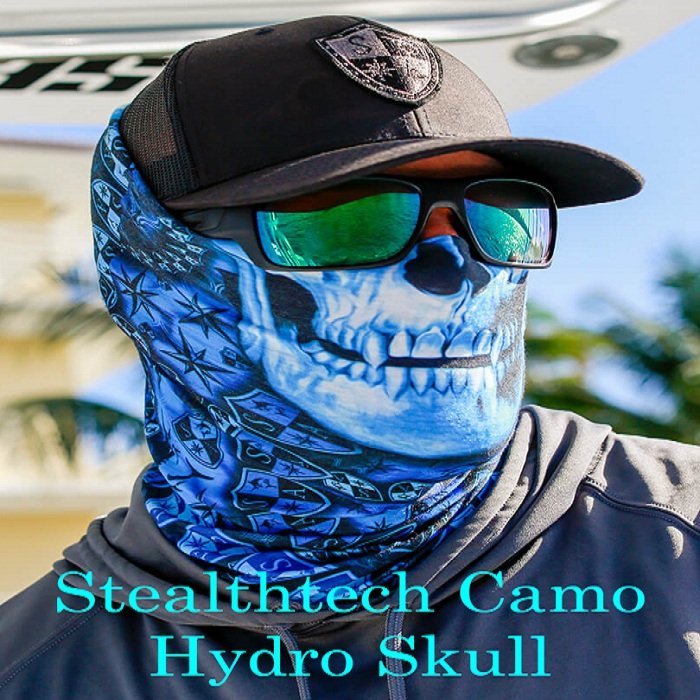 Stealthtech hydro skull is made of soft polyester microfiber. The fabric is breathable which means you can comfortably breathe and not feel stifled when wearing the face shield. It is 100% seamless which is a new and trendy fashion. It measures 10.5 x 20.5 inches. This is large enough for all sizes of adult heads. The fabric has a 2-way lateral stretch capability.
2.   Frost Tech™ | Galaxy Fleece Lined Face Shield™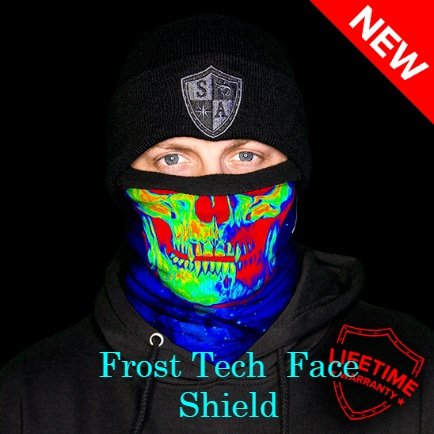 The Frost Tech is an extreme wind technology fishing face shield made of 100% pure microfiber. The dual lateral stretch makes for easy wearing and keeps your face fully protected. This face shield is able to stop wind gusts of 50mph. It has an inner unified lining which is made of fleece. Fleece is incredibly soft and easy to clean. Its moisture-wicking ensures you are not sweating like a bunny in there.
3.   Polynesian Tribal | Pink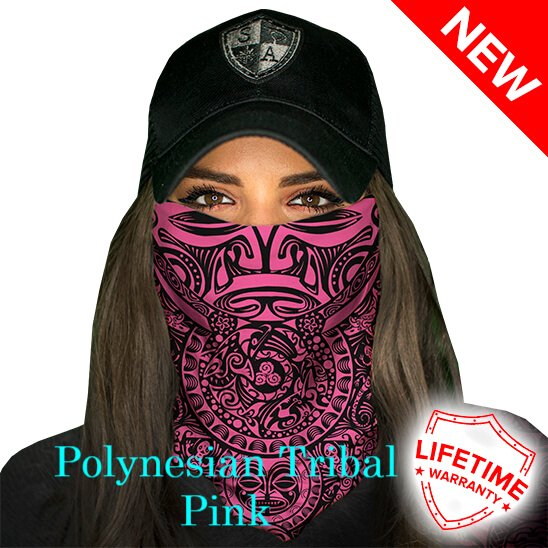 This fishing face shield has tribal pattern graphics. It's designed with 100% polyester microfiber. It is soft and breathable, which essentially allows you to breathe and doesn't damage your skin. It has odor-control capabilities, repels moisture, and easily air-dries. You will love the formidable protection against the elements. It measures 10.5 x 20.5 inches large enough to fit all adults.
4.   Frost Tech™ Tactical Black Fleece Lined face Shield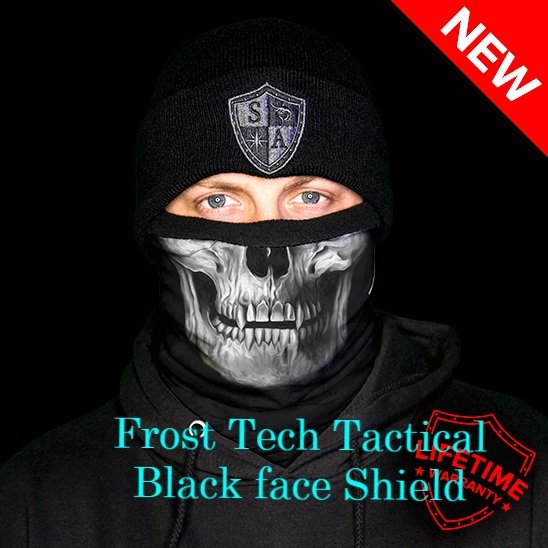 Tactical black is a 2-way lateral stretching full face shield that weighs 1.3 ounces. The material is 100% soft polyester microfiber that's breathable and soft. These bands are SPF40 equipped to resist stain and moisture, control odor, and protect you against the wind. It weighs 1.3 ounces and measures 10.5x 20.5 ounces, a standard size for all adults.
5.   Nebula SA Company Face Shield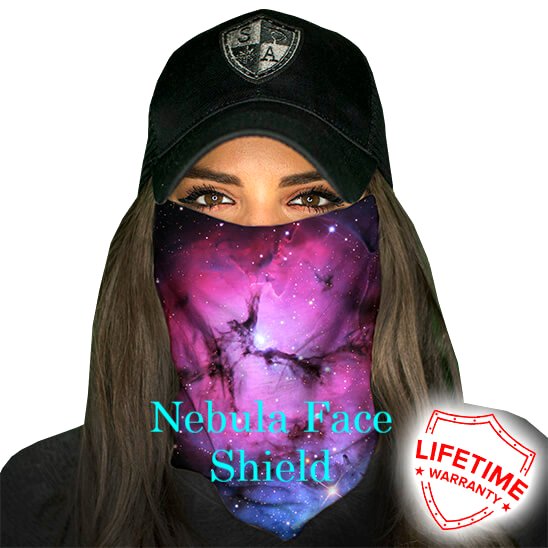 Weighing 1.3 ounces the Nebula is a 100% seamless face shield made of 100% polyester microfiber. You can wear it in more than 10 different styles thanks to its 2-way lateral stretching capability. It is polyester, breathable, soft, and repels moisture. When you clean it you are best advised to air dry. Do not iron. The material is SPF40 suitable for maintaining hydration, and wind protection.
6.   Clown SA Face Shield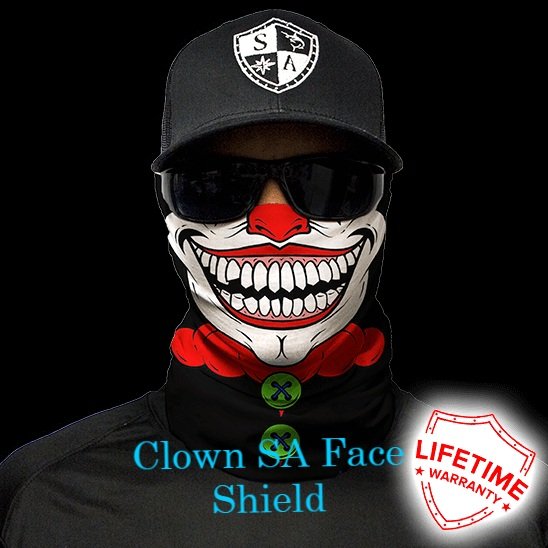 The clown is a standard adult size SA fishing face mask that measures 10.5 x 20.5 ounce and measures 1.3 ounces. Its fabric is 100% soft, breathable polyester. The polyester is 100% seamless and has a dual way lateral stretch. This face shield is meant to be worn in more than 10 varying ways. It controls odor and has SP40 which will protect you from UV rays.
7.   SA Forest Camo Skull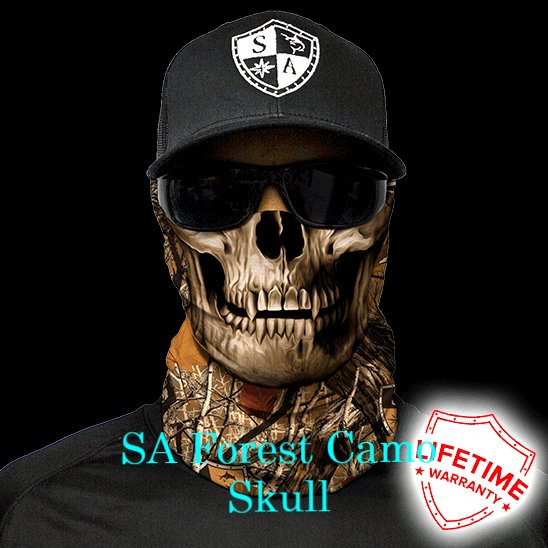 The Forest camo gives you maximum protection with its 100% microfiber polyester and no seams. You can wear it in over 15 ways and also use it as a wind protection gear. It should be air-dried once you wash it. You will love how resistant it is to stains and hydration. It can easily fit any adult thanks to the 2-way lateral stretch.
8.   Carbon Fiber SA Face Shield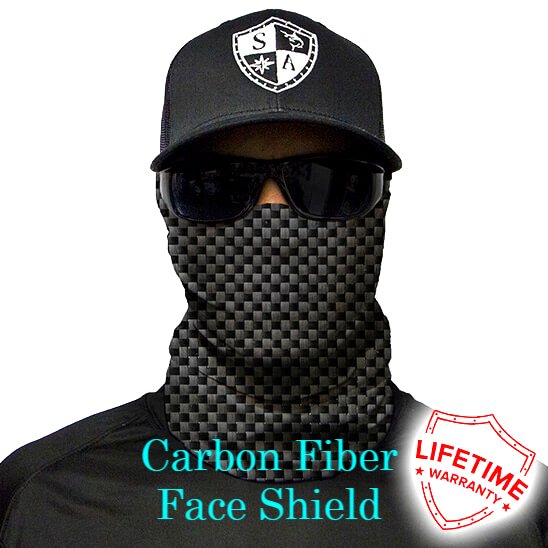 This SA fishing face shield is made of 100% polyester. Weighs 1.3 ounces and offers you protection while outdoors without being weighed down. It is able to wick away moisture, dries up quickly, and controls odor. It has no seams and has a 2-way stretch Lateral.
9.   Two-Sided SA Face Shield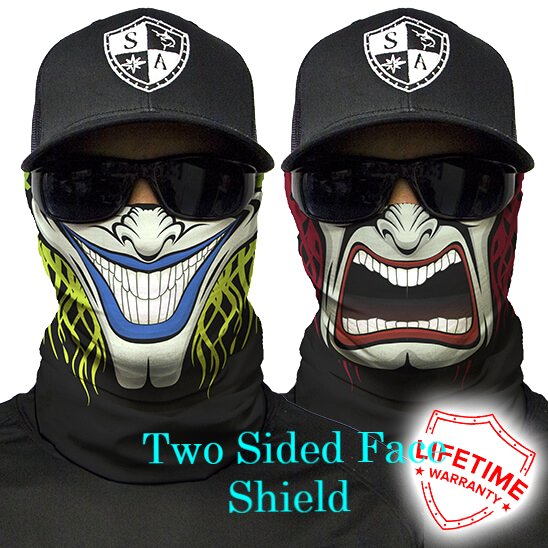 The two-sided SA fishing face shield has graphics on both sides and can be worn on either side. It's made of 100% stainless soft breathable polyester. This face shield repels moisture, its light, breathable, and stain proof.
10.  Blackout American Flag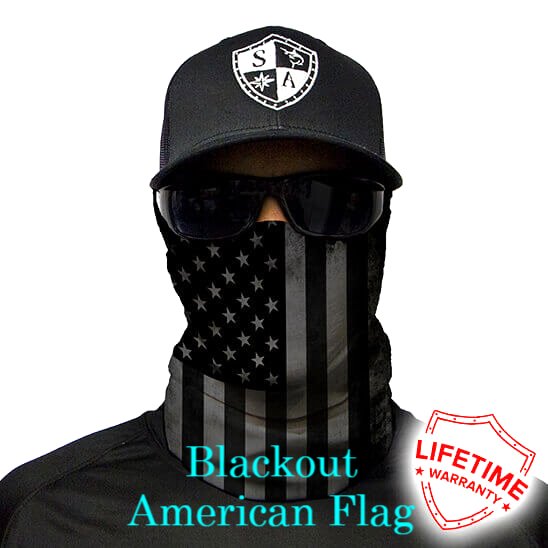 Blackout is a black American graphic face shield. It is lightweight at 1.3 ounces and made of 100% polyester microfiber. This face shield is seamless and can be worn in 10 different styles. The Blackout American Flag face shield is moisture and stain resistant. It measures 10.5 x 20.5 inches and has a 2-way lateral stretch that allows it to expand without damage. The fabric is smooth and breathable and repels moisture leaving your skin optimally hydrated all through.
Conclusion.
The SA fishing face shields are definitely for the badass and free-spirited outdoor enthusiasts. And since you fall into this category, go ahead and choose your poison from our list of the sickest and newest SA fishing face shields on the market.